Lake View Terrace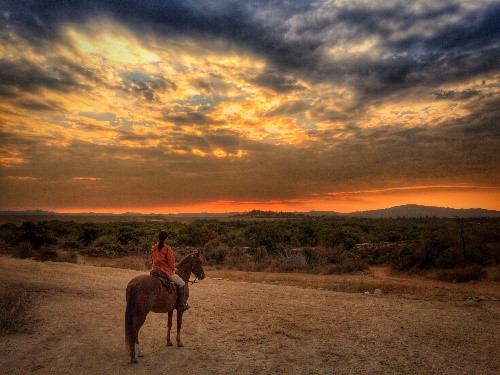 Lake View Terrace is nestled in the Foothills of the San Gabriel Mountains, located in the Northeast San Fernando Valley. Surrounding areas include the Angeles National Forest, Little Tujunga Canyon, Big Tujunga Canyon, Hansen Dam, Kagel Canyon, and a portion of the Verdugo Mountains. Originally part of the Tujunga and San Fernando Mission Ranchos, the first settlers arrived in the area in the 1870s. Home to a diverse group of people from many professions and ethnic backgrounds the community of approximately 12,000 people and 3500 homes includes a large equestrian community and is one of the few remaining residential areas in the City of Los Angeles that has private homes zoned for horse-keeping. This is a special area that has both a rural atmosphere and city conveniences; on any given day you can see a horse and rider and a city bus sharing the same street.
In 1888 a one-room schoolhouse was built, the first in Lake View Terrace. Today the community has several elementary and high schools including public, charter, and private and its very own library. Sports programs are offered at The Lake View Terrace Recreational Center, which also serves as a community meeting place for various neighborhood groups. Leisure activities in LVT include two golf courses, an Equestrian Center and The Hansen Dam Aquatic Center, which includes a public swimming pool and a recreation lake used for fishing, pedal boat rental, and public boating. In 2014 The Discovery Cube, the newest children's museum in Southern California opened in Lake View Terrace, featuring interactive science exhibits for all ages.
The Lake Terrace Improvement Association is an all-volunteer community group that has served residents of the area since 1940 and strives to preserve and improve the quality of life in Lake View Terrace, a unique and beautiful oasis in Los Angeles.
(contributors include Mali Bakhtar, Cile Borman & Fallon Milligan)
La Tuna Canyon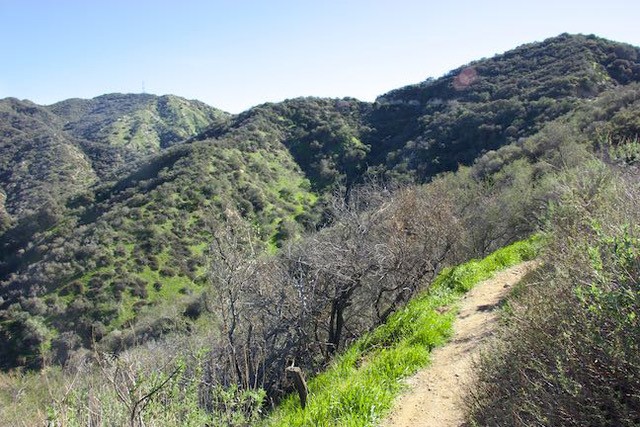 La Tuna Canyon is a residential, equestrian community nestled in the Verdugo Mountains, bordered by Sun Valley, Burbank, Shadow Hills, and Sunland/Tujunga. It is part of the Foothill Trails District of Los Angeles and as such represents one of the few equestrian communities remaining in the city.
In the canyon, you will find equestrian properties and many hallmarks of the rural lifestyle. The main thoroughfare of the canyon, La Tuna Canyon Road, winds through residential areas as it makes its way to the more sparsely populated section of the canyon, heading to the 210 freeway. The winding scenic corridor is a destination for bicyclists, motorcyclists, and car touring. Hikers, equestrians, and nature enthusiasts are also attracted to the multiple trails in the canyon.
La Tuna is home to some of the best equestrian and dog boarding facilities in the city. Another jewel of the canyon is the Theodore Payne Foundation for Wild Flowers and Native Plants, founded in 1960 the foundation operates as a live nursery and education center for California native flora.
Many places of worship congregate in the canyon. Vinedale College Preparatory Academy and Village Christian School are two of the notable education facilities that reside here.
Canyon residents see themselves as a bastion of rural living at the edge of the nation's second-largest metropolis.
(Written by Scott Froschauer)
Shadow Hills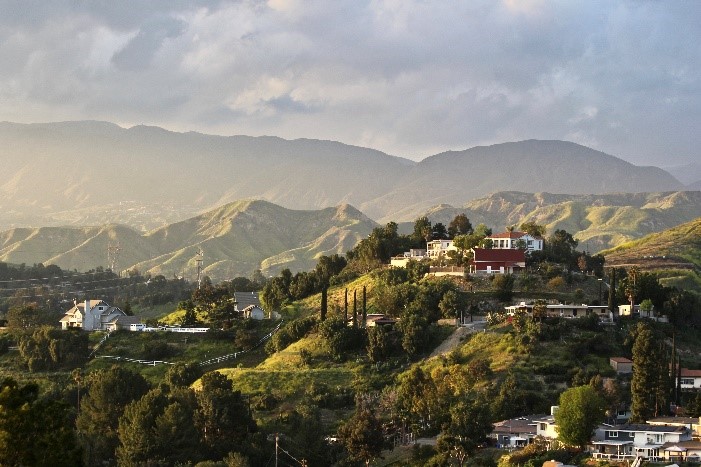 Shadow Hills is located in the southern portion of the community of Sunland and extreme northeast portion of the community of Sun Valley that is east of Glenoaks Boulevard. It shares the Sunland zip code although residents unsuccessfully attempted to get its own zip code due to its unique character.
The City of Los Angeles annexed Sunland in June 1926. For many years, Shadow Hills remained rural and largely undeveloped because its hills and "rock-hard" soil made it difficult to build. However, that hasn't stopped developers from trying and each time they are met with strong resistance from Shadow Hills Property Owners Association whose mission is to keep the area rural and equestrian-zoned.
It is home for approximately 2200 households, many of which are working ranches. It is an animal-lover paradise as owners are allowed to have chickens, ducks, emus, goats, sheep, llamas, cows, horses, and of course, dogs and cats. Every once in a while you'll even see a "Lost Tortoise" sign. The wildlife is abundant as spotting coyotes, bobcats, cougars, bears, peacocks, bats, many species of birds of flight including egrets and owls, raccoons, skunks, opossums, squirrels, rabbits, snakes, and deer are commonplace. Shadow Hills is also home to the Tujunga Ponds which feeds Haines Canyon Creek (home to the endangered Santa Ana Suckerfish) that runs along Wentworth Avenue. Much of this area is part of a mitigation bank which means it is routinely monitored and cared for so that wildlife can thrive.
(Written by Cindy Bloom)