County Parks at Sundown
Posted on 05/16/2022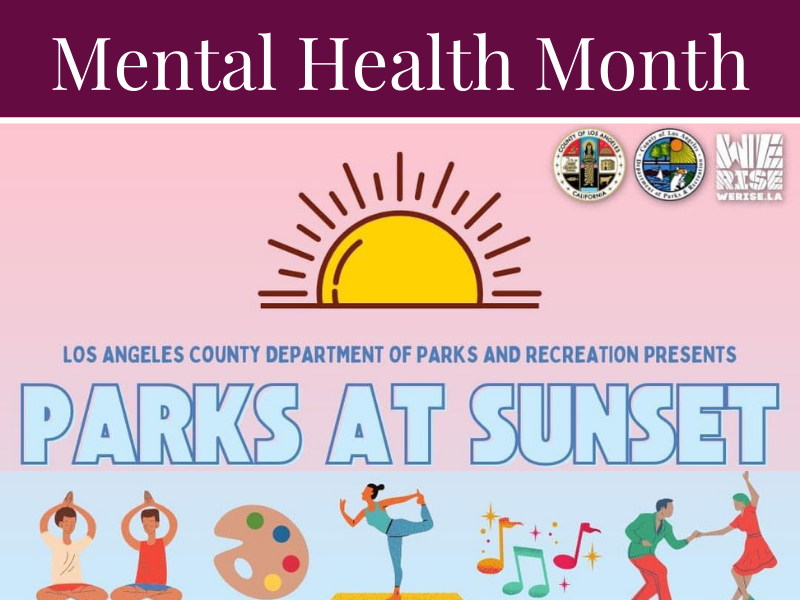 Green spaces, physical activity, and social connectivity play a powerful role in overall well-being. Activities include meditation, yoga, dance, painting, and more. Fuel your soul by dropping in during sunset at an L.A. County Park near you!

Thursday, May 19
Arcadia Park, 6 p.m.
Charles Farnsworth Park (Altadena), 6 p.m.
Jackie Robinson Park (Littlerock), 6 p.m.
Val Verde Park (Castaic), 6:30 p.m.
Tuesday, May 24
Pamela Park (Duarte), 6 p.m.
Stephen Sorensen Park (Palmdale), 6:30 p.m.
Wednesday, May 25
Castaic Sports Complex, 6 p.m.
Dr. Richard Rioux Park (Stevenson Ranch), 6:30 p.m.
Pearblossom Park, 6:30 p.m.
Dexter Park (Sylmar), 6 p.m.
Thursday, May 26
Crescenta Valley Park, 6 p.m.